Four Strategic Economic Documents Signed between Afghanistan and Turkmenistan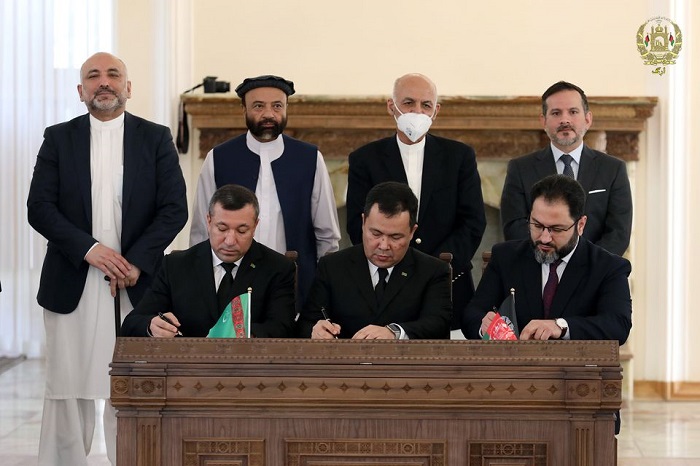 The authorities of Afghanistan and Turkmenistan signed four strategic documents of economic cooperation on Wednesday, September 30, 2020 in the presence of His Excellency Mr. Mohammad Ashraf Ghani, President of the Islamic Republic of Afghanistan. The documents included power transmission line from Turkmenistan to Afghanistan, implementation of the Herat phase of TAPI project, Fiber Optic Network, and the Afghan Wireless Company's contract.
The ceremony to sign these strategic documents was held at the Presidential Palace of the Islamic Republic of Afghanistan. At the outset, Mr. Ajmal Ahmady, the acting Governor of Da Afghanistan Bank who was leading the delegation of these MoUs extended his gratitude and appreciation to His Excellency the President of the country for paving the grounds for such MoUs with the President of the Republic of Turkmenistan and added that the implementation of such projects will result in greater economic interests and expansion of business relations for the two countries.
Subsequently, Mr. Rashid Meredov, Turkmenistan's Foreign Minister, insisted on further economic cooperation between the two countries and added that Turkmenistan and Afghanistan have been two friendly countries and good neighbors throughout the history and both have enjoyed good business and diplomatic relations with each other.
At the end of the ceremony, His Excellency Mr. Ashraf Ghani thanked Mr. Qurban Ali Birdi Muhammadov the President of Turkmenistan for paving the path to sign these important strategic economic MOUs and added that the implementation of these important economic projects is in the interest of the two nations.
These Memoranda of understanding will play their role in further expanding the economic and business relations between Afghanistan and Turkmenistan which will result in employment opportunities for thousands of our countrymen.